Stainless steel lift tables
…also Hot Dipped Galvanised
For hostile environments, inc. chlorine
Totally enclosed box section
Bead blasted surface
Recommended for food industry use
An E12-125YSS special built lift table made from EN 1.4301 stainless steel with specially painted cylinders and chrome plated stainless steel rods. The lift control is by foot switch.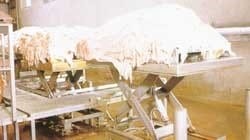 A number of 1,200Kg capacity lift tables being used in a process hall. The environment is extremely agressive due to concentrated salt water sprays. The working height needs constant adjustment to prevent damage to the operators' backs as the loads are heavy and difficult to handle.
Cylinder type
- Complete stainless steel EN 1.4301 or EN 1.4401.​
- Standard cylinder tubes coated with corrosion resisting primer and spray coated with a 2 component acrylic resin paint finish, colour RAL 7032 grey. Piston rod of chrome plated stainless steel.
Fabrication
- Completely from EN 1.4301 or EN 1.4401 stainless steel.
- Combination of Stainless platform and bottom frame with hot dipped galvanised armset.
- Hot dipped galvanised.
Bearings
- All axles and cylinder bolts of stainless steel and bearing bushes with grease points.
Power pack
- We recommend placing the power pack and control panel in a remote location or covering with a stainless steel hood.